Viewing Job Results
When a job has completed, from the Job Manager page click either the job name or the View Job icon (

). WebMO will display the job results in graphical and tabular form.
To view the job results in a new tab, right-click either the job name or the View Job icon and select "Open in new tab". This behavior can be set as the default behavior by editing one's User Profile.
The top of the View Job page has the job number, name, calculation type, and computational engine. The final geometry is displayed in a 3-D molecule viewer, followed by tables of calculated quantities.
The 3-D molecular image can be rotated (

), translated (

), and zoomed (

) similar to structures in the 3-D WebMO editor. The calculated quantities can collapsed or expanded by clicking on the triangles.
Many of the tabluated quantities can be displayed in the molecule or data viewer by clicking the by the clicking the view icons (

) or animate icons (

).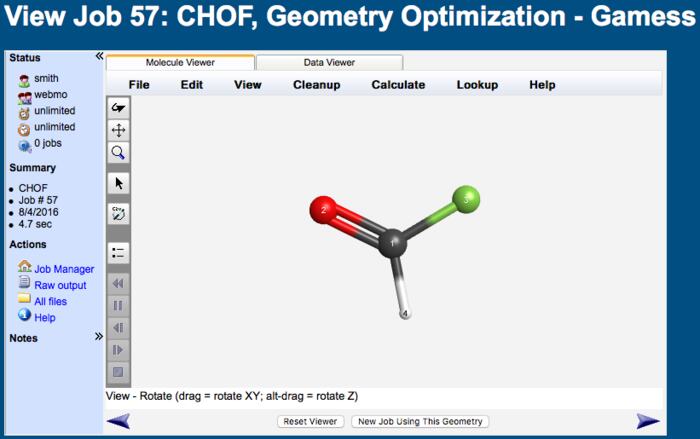 WebMO View Job Page (1/2)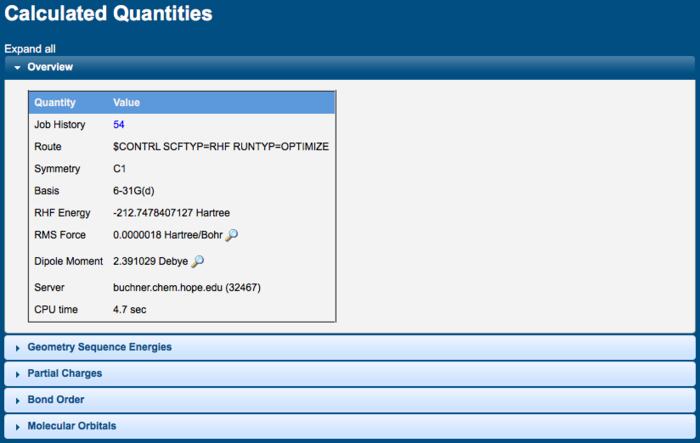 WebMO View Job Page (2/2)